Town of McAdenville Awarded $858,000 Grant Latest News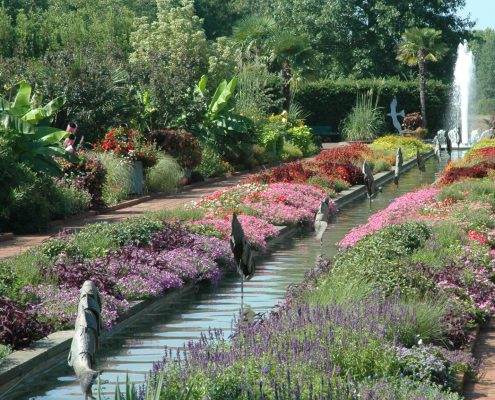 The Golden LEAF Foundation announced this month that the Town of McAdenville has been awarded $858,000 to assist with the South Fork Sewer Project.
The project will construct a new wastewater pump station and force main to allow for the elimination of the McAdenville Municipal wastewater treatment plant and the Pharr Yarns industrial wastewater treatment plant. Once the project is constructed, wastewater previously treated at the two, 50-year-old facilities will be consolidated to the City of Gastonia's Two Rivers Utilities (TRU) system for treatment.
"McAdenville is pleased to receive this additional funding support for what is truly a critical project for our community. This project is about partnership and the Town of McAdenville sincerely appreciates the involvement and support of all of its project partners and funding agencies," said Jim Robinette, Mayor of the Town of McAdenville.
The consolidation of the two plants in McAdenville into the City of Gastonia's state-of-the-art facility will enhance current and assist future infrastructure as well as pave a path for economic development to increase and diversify the tax base in McAdenville. Additionally, the consolidation will have a positive impact on the natural environment, a goal Pharr has supported through various community initiatives throughout the years.
"Golden LEAF's goal is increased economic opportunity in the communities we serve," said Dan Gerlach, Golden LEAF president. "We are pleased to provide funds to the Town of McAdenville for efficient and effective wastewater infrastructure that will support eh approximately 900 local jobs at Pharr, one of the largest employers in Gaston County."

"We are very pleased to see that the final piece to the puzzle has been obtained, and a significant project to further the regionalization of wastewater treatment is now funded and construction-ready," said Bill Carstarphen, president and CEO of Pharr. He adds, "We have committed significant resources in this project over the years because we believe it will provide for new economic development opportunities for the Town of McAdenville, as well as make a positive impact on one of our town's greatest assets, the South Fork River. It makes economic sense and it makes environmental sense.
The goal to consolidate into one regional wastewater treatment facility has been a joint public-private effort between the Town of McAdenville, Pharr, TRU and Gaston County for more than 10 years. This grant is part of the total funding package for the $6 million dollar project which includes grant funds from the North Carolina Clean Water Management Trust Fund, North Carolina Department of Commerce and Gaston County along with loan funds from the North Carolina Clean Water State Revolving Fund. Construction of the project is expected to begin in the Fall of this year and is expected to take up to eighteen months.