New Restaurant Coming to Downtown McAdenville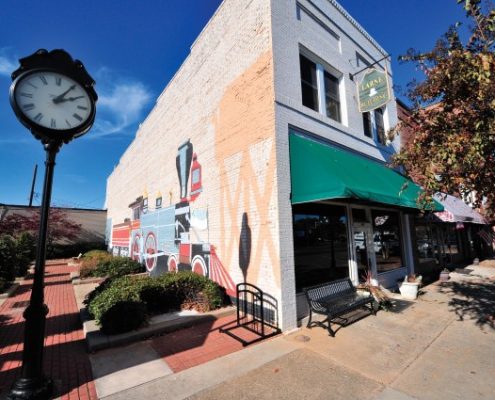 The owners of Sammy's Neighborhood Pub in Belmont recently announced that their second restaurant, The McAdenville Table and Market, is coming to downtown McAdenville in late 2017.
The McAdenville Table and Market will offer patrons a market and butcher shop where they can purchase fresh foods, meats, seafood, craft beer and wine in addition to operating as a restaurant that will seat 76 and serve a variety of salads, sandwiches and entrees.
"This new space offers us an opportunity to serve McAdenville and surrounding communities. We want to be a part of the fabric of this town, to serve them good food at a good price and give them a place to purchase fresh produce and meats close to home," says co-owner Jim Bailey.
The restaurant décor will reflect the heritage and history of McAdenville, exhibiting throughout the space memorabilia and old photographs of the town and textile mill. Additionally, the space will feature exposed brick from the vintage duplex built on the site in 1881 by R.Y. McAden and return the adjacent space to the floorplan of the original McAdenville grocery, Abernathy's.
"We are thrilled to play a part in the redevelopment of McAdenville's historic commercial district. We hope to play a key role in the future draw for the region, along with the recently opened salon, the new bridge and future trail system. We want to be a part of the town's continued growth, blending the authentic and historic with some outstanding amenities" says co-owner John Bailey, Jim's son.
The McAdenville Table and Market will be open Monday through Thursday, 11 a.m. to 9 p.m. and Friday through Sunday from 11 a.m. to 10 p.m.