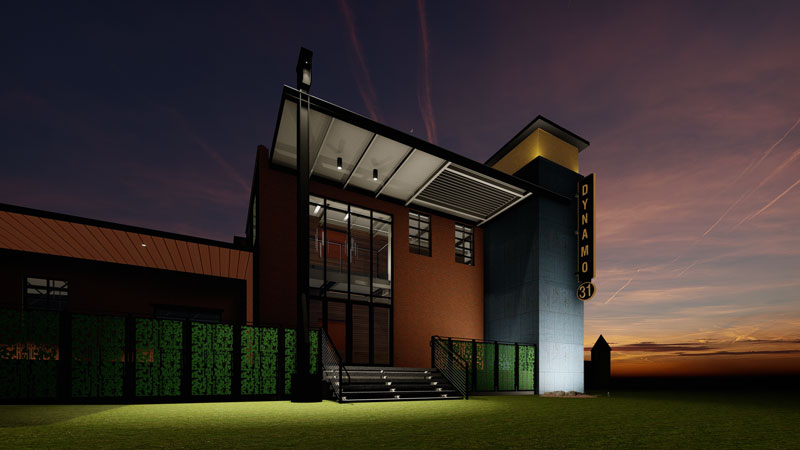 McAdenville's Makeover: Pharr's Renovation Projects Signal Town's Shift Toward Becoming a Year-Round Destination
Best known for its spectacular holiday lights, Gaston County town prepares to welcome new retailers, food and beverage providers, office users and recreation enthusiasts
FOR IMMEDIATE RELEASE
Media Contacts:
Hallie Dean, Luquire (hdean@luquire.com 704-807-2083)
---
March 2022 (McADENVILLE, N.C.) – In a careful blend of preserving rich, important history and capitalizing on exciting economic opportunities, Pharr, a local company with deep roots in the quiet town of McAdenville, is unveiling a series of renovation and renewal projects to foster continued growth in the historic community.
A quintessential small town situated along the South Fork River, McAdenville was named in 1883 for McAden Mills, the textile company that was started there by R.Y. McAden. Acquired in 1939 by visionary William J. Pharr and family members, Pharr remains a family-owned company that for generations has been a positive force in the town, and is now reimagining its riverfront property and spaces that once housed yarn manufacturing, repurposing them for new businesses and year-round visitors with much to offer the community.
McAdenville is perhaps best known today as "Christmas Town U.S.A.®" for its annual Christmas lights tradition that attracts visitors from miles away. But the town is now ready and more than prepared to show people what it's all about beyond the holiday display, striving to be viewed as a year-round destination.
"Today we're thrilled to announce the beginning of a series of projects to invest in McAdenville's future while honoring its rich history," said Pharr CEO Bill Carstarphen, the family's third-generation company leader. "By putting our efforts and energy behind carefully selected, sound investments, we hope to invite and attract new businesses, customers, families and outdoor enthusiasts, while keeping our close-knit-community feel."
The former 1940s Pharr Yarns mill adjacent to Pharr's corporate office in downtown McAdenville is being converted to class A office space, to be known as the Dynamo 31 Building. The name symbolizes the hydroelectric generator built and installed in 1884 by the Edison Electric Illuminating Co. to light McAden Mills No. 1 and No. 2, believed by many historians to have been the first electrically lit textile mills in the world. The repurposed building's first tenant, The Catawba Riverkeeper Foundation, will move in by mid-May, with more tenants expected to follow shortly after.
Renovations are also under way on the historic Mill No. 2 building, including replacing the turret roofs with new copper, repointing the brickwork and adding new windows. Brick surfaces will also be treated to restore their original appearance, while newly installed uplighting will provide a dramatic nighttime presence.
The historic mill building at the center of town, opened in 1907 and originally known as McAden Mill No. 3, is being transformed into space that will likely house commercial uses such as food and beverage, retail and/or entertainment space. The open-air gathering space will be designed with customers in mind, embracing the riverfront with outdoor seating and entertainment. The initial renovations are focused on the building's exterior and flooring, and are expected to be completed within the next few months.
Elsewhere in downtown McAdenville, 115 Craft, a new taproom and retailer for wine and craft beer, will soon join the list of local establishments that include recent addition Revolver Records, a retailer of vinyl records and related merchandise.
Also seeking to add recreational opportunities for McAdenville's residents and visitors, Pharr is constructing an extension of the Carolina Thread Trail, a 10-foot-wide paved walking trail along the South Fork River with views of the falls at the McAdenville dam, connecting an existing trailhead near the I-85 bridge to the picturesque J.M. Carstarphen bridge overlooking the falls. This new trail in McAdenville will be an important segment of a 26-mile trail along the river that will eventually extend from Spencer Mountain to the Daniel Stowe Botanical Garden, connecting the cities of Lowell, McAdenville, Cramerton and Belmont.
Additionally, the picturesque lake in the heart of downtown is being dredged, and a newly landscaped perimeter will be added, to offer better access and views for the community while improving the health of the lake for fish and other wildlife.
"Our beloved town is known for its quaint, kind offerings and for our Christmas Town USA spectacle, but we are so much more than that," said Jim Robinette, mayor of McAdenville. "These renovations will bring economic growth and provide new places to gather for fun and fellowship but most importantly, they will tell the stories of this town and shed a light on its rich history and resilient, good people."
Details around construction, timing and tenants are subject to change, and additional announcements will follow as plans are finalized.
About Pharr
Pharr is a family-owned company with a rich history that has included work in such industries as specialty textile manufacturing, hospitality management and real estate development. Pharr has an 80+ year history in McAdenville, North Carolina, where its businesses have been a catalyst for helping develop a diverse and growing community. Interested parties can direct questions to Eric Clay at Coldwell Banker Commercial MECA (704-806-9977).