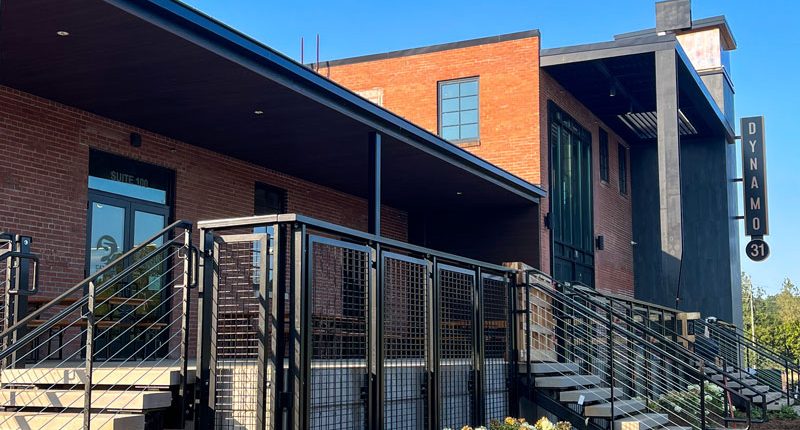 McAdenville's Dynamo 31 Building Officially Opens as Beautification Projects Progress Around Town
Opening of the highly anticipated, renovated mill signifies milestone moment in Pharr's rejuvenation plans as the town gears up for new beautification activity
FOR IMMEDIATE RELEASE
Media Contact:
Hallie Dean, Luquire (hdean@luquire.com 704-807-2083)
---
Sept. 16, 2022 (McADENVILLE, N.C.) – A few months after first announcing a substantial string of renewal projects focused on fostering continued growth in the historic community of McAdenville, hometown company Pharr has announced the opening of the Dynamo 31 building and its first tenant, the Catawba Riverkeeper.
The former 1940s Pharr Yarns mill adjacent to Pharr's corporate office in downtown McAdenville has been converted to class A office space. The Dynamo 31 name comes from Thomas Edison's 31st hydroelectric generator that was built and installed in 1884 by the Edison Electric Illuminating Company to light McAden Mills No. 1 and No. 2, believed by many historians to have been the first electrically lit textile mills in the world.
The Catawba Riverkeeper is the first tenant to occupy Dynamo 31, to be joined soon by Custom Physical Therapy & Fitness. Leases with two other professional services providers are in process, leaving approximately 6,800 square feet available for lease.
"We're humbled and encouraged by the major progress we've made in our efforts so far and the positive impact it's had in our community already," said Pharr CEO Bill Carstarphen, the family's third-generation company leader. "Today we're excited to share updates on the status of current projects and announce additional plans to keep the momentum and widespread energy going."
On the heels of the fully redesigned mill announcement, Pharr is rolling out phase two of its overall plan, which includes exciting updates to original work and new elements of construction specifically focused on beautification.
Pharr has been working with renowned landscape architects and civil engineers from LandDesign Inc. on plans for the refurbishment and beautification of the lake at the center of town. The earlier announced dredging project has concluded and a bank restoration project will soon be underway, which should improve the health of the lake and the fish and wildlife that inhabit it.
The lake will also undergo a landscape redesign, including new trees clustered near the lake, a new fountain in the center and "floating Christmas trees" during the holiday season. Though the current Norway Spruce trees are a familiar element of the town's iconic Christmas Town U.S.A.TM celebration, they've grown too large to safely light and enjoy.
Pharr has worked closely with LandDesign to select new trees, including conifers, flowering trees and hardwoods, that will be set back from the lake, resulting in stunning colors across all seasons. The town will also have new opportunities to safely enjoy the lake's beauty with a new trail extension overlooking the north side of the lake and connecting to both the Carolina Thread Trail and the McAdenville Greenway.
In other development news, renovations are underway to the riverfront historic mill building at the center of town – opened in 1907 and originally known as McAden Mill No. 3. The roof replacement project is nearly complete, interior flooring repair/replacement is in progress and new windows will soon be installed. Pharr believes that this open-air gathering space can be converted into commercial uses such as food and beverage, retail and entertainment with residents and year-round visitors in mind, embracing the riverfront with outdoor seating.
Elsewhere downtown, 115 Craft, a new bottleshop/taproom for wine and craft beer, is now open and serving its tasty beverages to the town of McAdenville. Modest Market, a shop offering fresh flowers, floral arrangements and botanic art, will soon join the taproom and other local establishments. Later this year, coffee shop Knowledge Perk and ice cream shop Two Scoops Creamery will open.
From a recreational perspective, grading will soon begin on the McAdenville extension of the Carolina Thread Trail, a 10-foot-wide paved walking trail along the South Fork River with views of the falls at the McAdenville dam. This new trail, connecting an existing trailhead near the I-85 bridge to the picturesque J.M. Carstarphen bridge overlooking the falls, will be an important segment of a 26-mile trail along the river that will eventually extend from Spencer Mountain to the Daniel Stowe Botanical Garden, linking the cities of Ranlo, Lowell, McAdenville, Cramerton and Belmont.
"We're so grateful for the community's continued support and patience in this process," added Carstarphen. "We look forward to gathering in these new spaces and celebrating this special town and its important history for years to come."
Details around construction, timing and tenants are subject to change, and additional announcements will follow as plans are finalized.
About Pharr
Pharr is a family-owned company with a rich 80+ year history with businesses centered around its developing and growing community. Presently, Pharr has established three businesses: real estate developer Belmont Land and Investment Company, hospitality management business Strand Hospitality Services, and investment company Greenleaves Capital. More information can be found at www.pharrcorp.com. Interested parties can direct leasing questions to Eric Clay at Coldwell Banker Commercial MECA (704-806-9977).